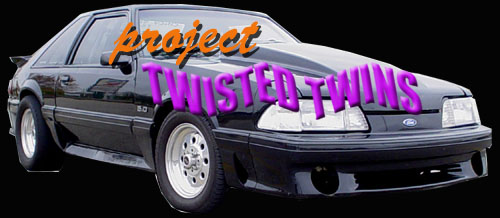 With the National Mustang Racers Association's announcement of a new class in 2003 called "Wild Street", it was then that I decided to find out just how fast I could get a street legal Mustang down the quarter mile. I just can't bring myself to having a "race-only" car. I have to be able to drive it on the street, it's just too much fun as you all know. The new Wild Street class will recquire all participants to have a valid driver's license, registration, insurance and properly working headlights, tail lights, turn signals, horn and must be driven on DOT approved tires. Participants will have to complete a 30 mile police escorted cruise to prove their road worthiness and return to the track to make 3 back to back timed passes. The 3 passes will be averaged and the winners will be based on those averages. There will be an overall winner and runner up as well as a winner and runner up for the closest to 9.00, 10.00, 11.00 and so on. No points will be awarded, no contingency money will be paid out. If you win, you get a nice plaque and the recognition of having the fastest streetable Mustang at the event.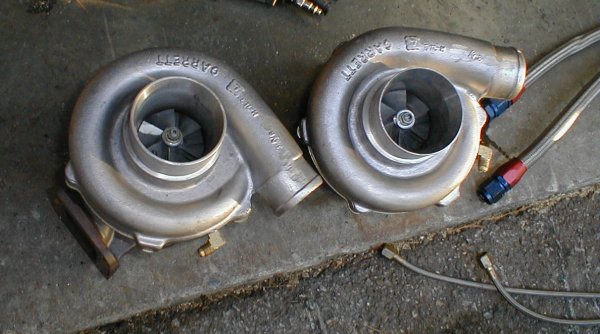 T04 housings, T-44's, .69 A/R, 810 CFM each
2002 marked my first year in racing anything ever. I got into the NMRA because of those "Dedpedal" guys. "You should come out and go racing with us!" Sounded good to me! I had no clue as to what I was about to get myself into. I competed in the Open Comp class just to "get my feet wet" and learn what it takes to participate in a national racing event. Registration, safety tech, contingency check-in, qualifying and eliminations are all second nature after only a few showings. The great thing about being involved in this type of sport and at this level is that you get to travel around, race on some great tracks, meet some top-notch people and witness first-hand what a sub 7 second 200+ MPH runs is all about.
In this past year of racing and watching, it seemed like the turbo cars were just getting faster and faster. This seemed to be an obvious choice for a power adder. While searching around online I happened to find what was a really good deal on a Cartech twin turbo set-up. When I seen that the owner had made a bit over 800 HP and ran consistent 8.90's with that kit, I thought that would be something fun to try. There were many single turbo kits available but I wanted to do something different and the truth is, you just don't see a whole lot of twin turbo Mustangs running around here. There was only one that I knew of, now there's two!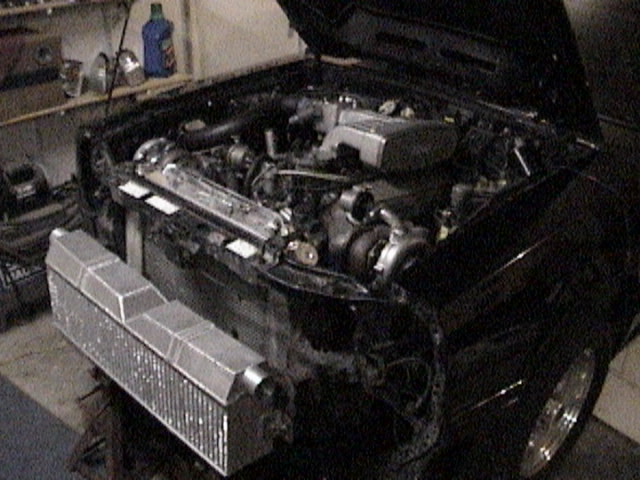 Mocking up the headers, turbos and downpipes
A check was sent off for the turbos on Oct 28th and a trip to Cincy Speed that day made for one happy speed shop owner. I think I was his favorite customer that day! I ordered a new Dart block, Eagle 4340 forged crank and H-beam rods, Ross dished forged pistons, new solid roller lifters, billet timing chain set, Moroso oil pan, Meziere electric water pump, a Vortech Mondo Box upper to fit my Trick Flow-R lower and a set of 160# injectors. The plan was set in motion.....I was really going to do this!
Two days later I'm back for more goodies. This time it was to order the FAST system, a bank to bank digital fuel injection system that would control the monster injectors I would need. Since I would be going from a Tremec 5-spd to an automatic transmission, the only sensible choice seemed to be a Powerglide. That transmission should be able to take what I plan on tossing at it. I picked up a B&M Pro-Bandit shifter and i have to tell you all, this is once fine piece. I am so happy with this thing and I haven't even tried it yet! I just sit around the house making racing noises and playing with the shifter, it's pretty sad.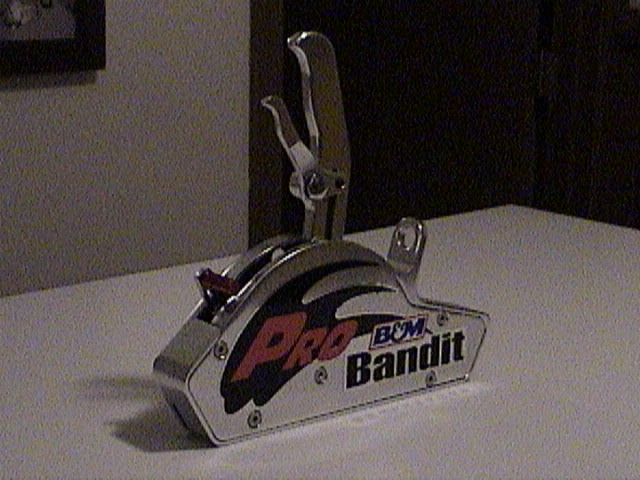 The new toy - B&M's Pro Bandit shifter
Okay, so now I have an idea of what kind of combo I want to put together - a twin turbo powered Dart block based 331 stroker........mmmmmm....that just sounds fun. I decided to go with the Powerglide transmission and have already purchased the bellhousing, a shifter and cable. Sounds like I got the "GO" part going now what do I do about the "SHOW" part? Well thanks to a fellow stangbanger (Ken B) he worked his photoshop skills on a picture I scanned out of an older 5.0 magazine. There's just something about that paint scheme that has me saying, "Yup, that's it, that's me." I thought a blue base with silver ripped scallops screaming down the front and sides would be what the car needed to round out the package. Plus since Keystone Light comes in blue and silver cans, the choice was obvious. LOL!
Update - 11/19/02
Dropped my Trick Flow Twisted Wedge heads off at BES (Bischoff Engine Service) and found that I had a bunch of broken valve springs. Nice. that would explain why my car wouldn't ever trap what I thought it should. Anyway, Kenny will be working the heads and getting them to flow a lot better. Ordered new valve springs, rocker studs and as much as I hated to pay for them, ordered a set of shaft mounted Jesel rockers. Ouch! But, I shouldn't EVER have to worry about getting another set of rockers. These are top notch pieces.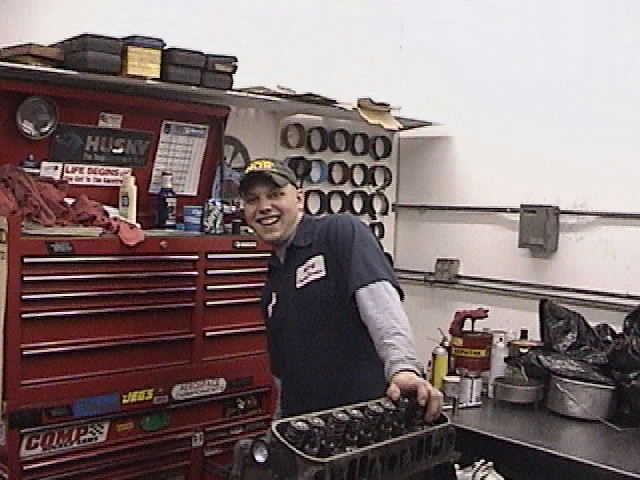 This is Kenny, he's building my motor and needs laid
While I was at BES, I snapped a few shots of the "thing". We bonded, spent some good quality time together and shed a tear as we had to part. I am talking about my new Dart block. This thing looks like you could drop it from a crane and it would still be fine. It's so damn beefy you just wanna make a sandwich out of it.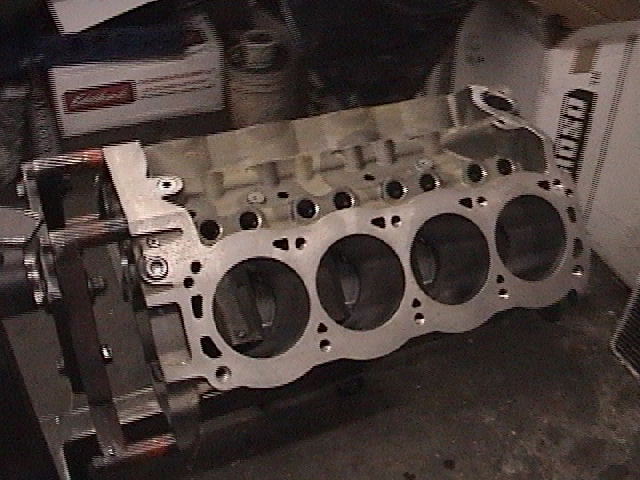 A whole lotta "umph" going on here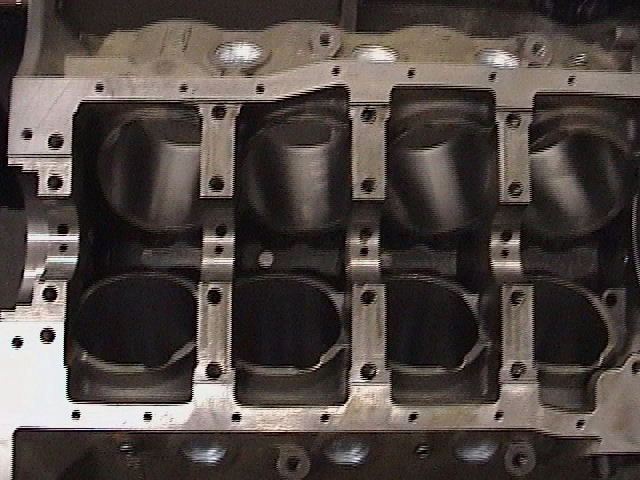 Today we salute you Mr Dart engine block maker
It's almost a shame that some of the sexiest pieces for the motor you can't even see. The fatty mains, the sleek H-beam rods, the beautiful Ross dished pistons, a billet timing chain set, and a set of shaft mounted Jesel rockers. I know they'll be in there doing what they should be doing. As long as they play nice and stay where they're suposed to, all will be good with the world.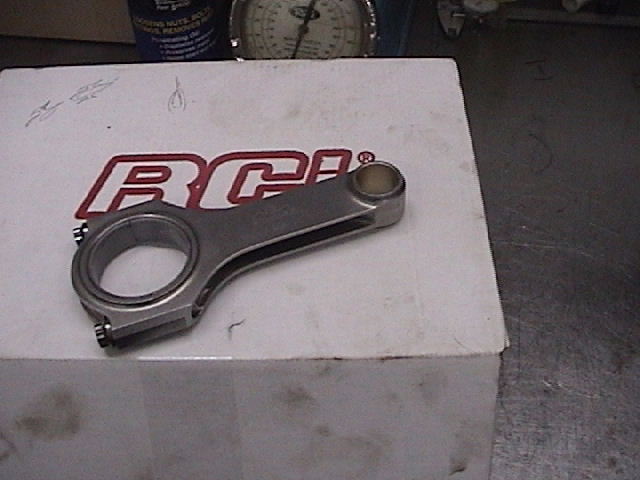 Eagle 4340 H-beam rods...........SEXY!!!!!!
Update - 11/26/02
Another trip to BES today to drop off the timing chain cover, valve covers and head studs. The shortblock is together!!! I touched it. Sounds like the motor could be in my garage the second week of December. Still left to do.....change valve guides, port work, valve job and checking the pushrod length. Before I yank the old motor, I need to mock up the turbos again and see where this monster of an intercooler is going to mount. Then I can gut the rest of the engine bay, add on to the cage and get some new paint done. After that, it will be time to start throwing the pieces together. I fully expect the beer count to be high.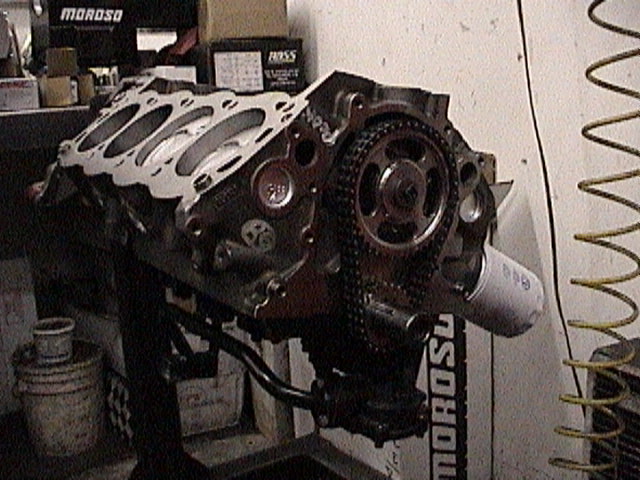 Ta-Da!!!!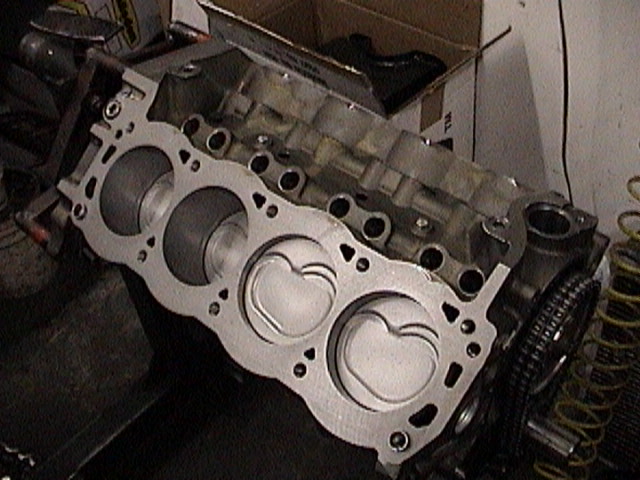 Starting to come together nicely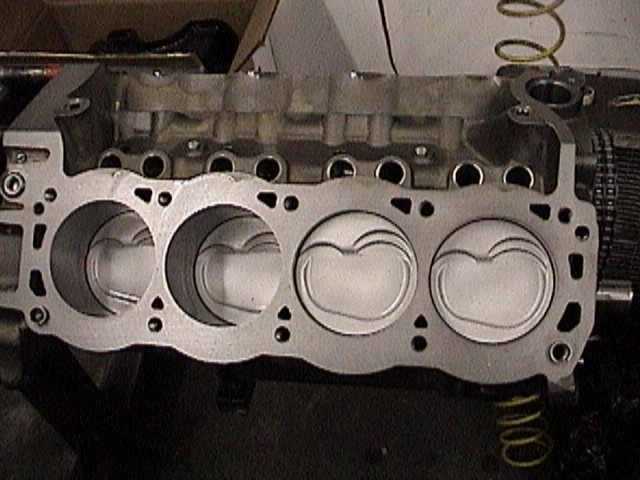 Boo-Ya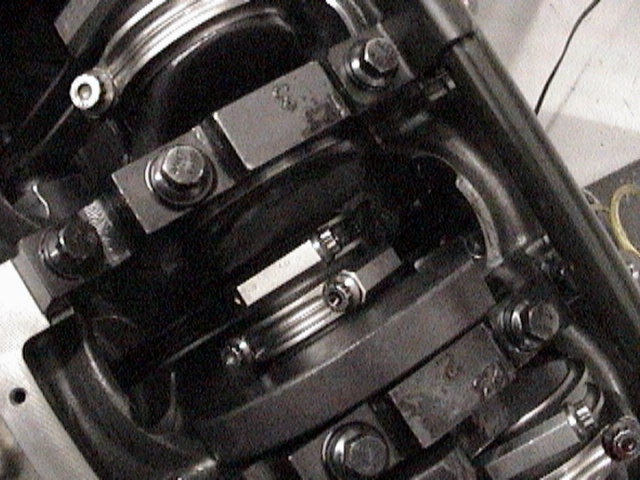 Close up shot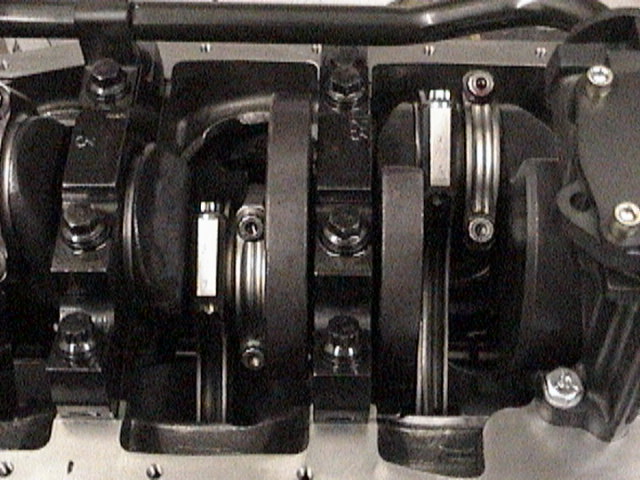 note the clearance work on the cylinder walls