At the end of the 2002 racing season, the NMRA announced a new class for 2003 entitled "Wild Street". Participants would hold a valid driver's license, registration and insurance, take a 30 mile police escorted cruise, return to the track and make 3 consecutive passes. The times for those passes would be averaged and participants ranked accordingly. This sounded interesting to me and I decided to build my car for Wild Street.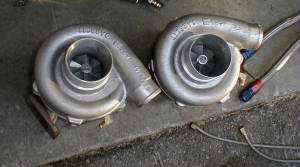 I knew that I wanted to run a turbo set-up. I found a good deal on a used Cartech twin turbo kit. Twisted Wedge heads + a twin turbo kit = Twisted Twins.....a project was born! The motor would have to handle 1000 HP so any reference to the term "budget" was thrown out the window. I ordered all my parts thru Cincy Speed and Bischoff Engine Service was chosen to handle the assembly duties.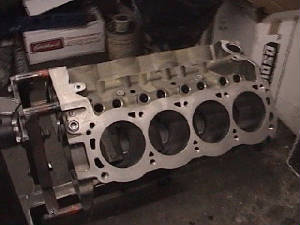 Dart Iron Eagle
331 cubic inches is achieved using an Eagle 4340 forged crank with 3.25" stroke and Eagle 5.4" forged H-beam rods to sling the Ross forged dished pistons.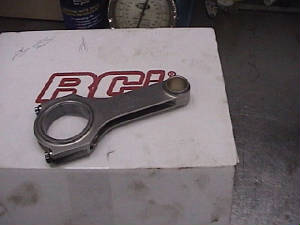 Eagle 4340 H-beam
The motor was completed and back in my garage just before Christmas 2002. BES ported my TFS Twisted Wedge heads and matched the TFS-R lower intake. The valves are motivated by a Comp Cams solid roller camshaft with a special grind specified by Job Spetter Jr. A sequential F.A.S.T. system will handle the 160# injectors delivering fuel thru an Aeromotive system.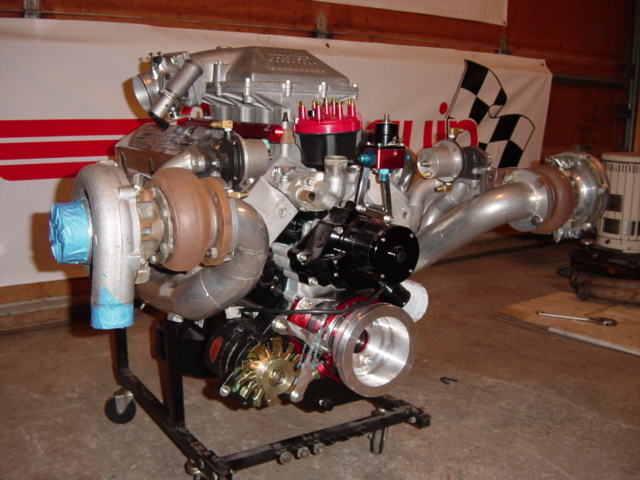 Dart 331 twin turbo