This is where it all went wrong
What is it about painters anyway? In the time it has taken to get this car painted, I could have went to school, learned how to paint and painted my own car TWICE!
Dec 2002 - picked up my new dart block 331 stroker from B.E.S.

Jan 2003 - took car to Performance Automotive to convert 8 pt cage to 10 pt.

Mar 2003 - cage finished, car delivered to painter #1, paid $1000 upfront to get started.

Jul 2003 - painter #1 didn't do a damn thing to the car and I've missed the first Wild Street race. Took car back.

Aug-Sept 2003 - took painter #1 to court to get my money back. Won a judgement, still didn't pay it, had to file for garnishment of wages.

Oct 2003 - took car to painter #2, missed a year of racing

Jan-Sep 2004 - Nothing. Missed another year of racing waiting for paint.

Sep 2004 - Drove to PA to buy a 4 cyl coupe. Sold coupe to pay painter #2 thinking that would motivate him to finish.

Jan-Jul 2005 - rear quarters put on car, bodywork completed, body primered, cage painted, jambs painted, engine bay painted.

Jul 2005 - replace clutch in '92 coupe and dropped the 331 in it for break-in.

Aug 2005 - Missed another year of racing. Pick up car from painter #2. Take car to Gary Rohe to install rear coil overs, wheel tubs and narrow rear end.
Sep 2005 - Deliver car to painter #3.
Dec 2005 - Car returns home, all painted except for the hood and rocker ground effects! YAAAAAAY! Thanks to Bo Webb aka "347sc"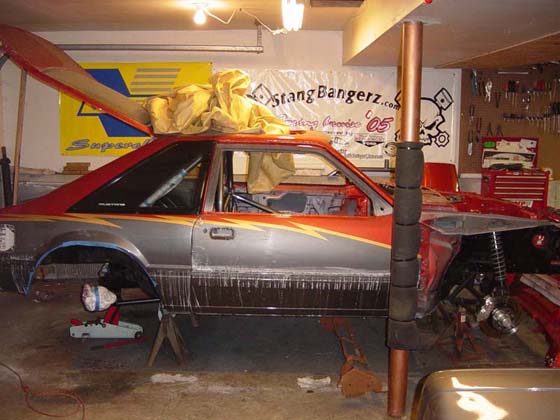 freshly painted!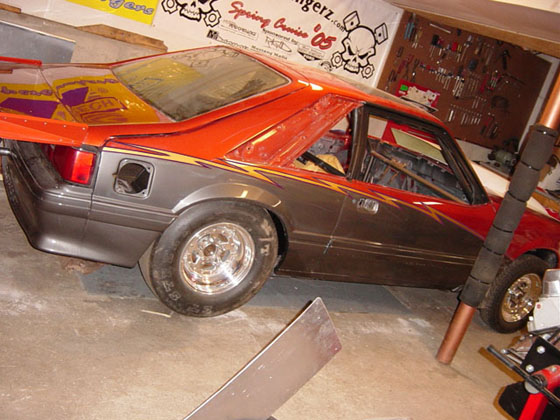 thanks to Dave "Black Horse" for the pinstripe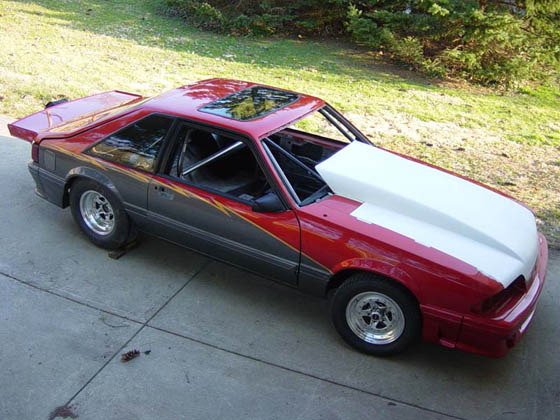 time to throw some parts on it!